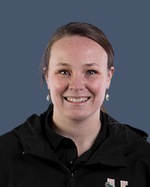 Diann Ramsey begins her second season as the Husson head softball coach in 2020. In addition to her coaching duties, Ramsey also serves as Husson's Director of Compliance.
OVERVIEW:
Ramsey, who was named the 14th head coach in program history on September 27th, 2018, inherits one of the most respected softball programs in the New England Region, that is coming off their eighth North Atlantic Conference (NAC) Championship and NCAA Tournament appearance in the last ten seasons.
In yet another testament to the program's winning ways, Husson has notched at least 25 victories in the nine of the past 14 seasons since the Eagles joined the NCAA in 2004.
Coach Ramsey has been witness to much of the program's success during her three years as a player at Husson. During this time the Eagles have tallied a 79-50 (.612) record including a 49-2 (.961) mark versus conference opponents.
PREVIOUSLY:
Ramsey arrived at Husson after spending the past eight seasons (2011-18) as the JV field hockey head coach and varsity field hockey assistant coach at Bangor High School. She also served as the Sluggers Baseball/Softball Training Facility's 18 and under head softball coach from 2017 and 2018.
PERSONAL:
Ramsey was a three-year letterwinner as an infielder on the Husson softball team from 2009-11 and a two-year letterwinner as a defender on the Husson field hockey team from 2009-10.
In 95 career games, she batted .319 (61-for-191) with 39 runs, 14 doubles, one triple, three home runs, 34 RBI and nine stolen bases.
Ramsey also posted a career .450 slugging percentage, a .394 on-base percentage, an .845 on-base plus slugging percentage, a .900 stealing percentage, and a .910 fielding percentage with 86 total bases and 18 extra-base hits.
In field hockey, Ramsey played in 32 games throughout her two years.
Off the diamond and the turf, she was named to the Spring North Atlantic Conference (NAC) All-Academic team in 2010 and 2011 and to the Fall NAC All-Academic team in 2009 and 2010.
During her career, Ramsey helped Husson field hockey and softball capture five NAC Championships (two field hockey and three softball), three NAC Softball Regular Season Crowns and five NCAA Tournament berths.
Ramsey earned a Bachelor of Science in Psychology from Husson in 2011 and earned a Master of Science in Psychology with an emphasis in Sport Psychology and Exercise Science from The Chicago School of Professional Psychology in 2014.
A native of Otisfield, Maine, Ramsey attended Oxford Hills Comprehensive High School.